Body discovered in water near Island Beach State Park
A body was found off Island Beach State Park not far from where a swimmer went missing on Friday.Larry Ragonese, a spokesman for the state Department of Environmental Protection, tells the The Star-Ledger a fisherman called 911 after finding the body floating in the Atlantic early Saturday morning. The Ocean County Medical Examiner has yet to positively identify the body.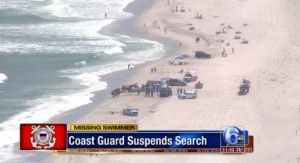 The search for Nicholas Guilhote, 25, began just before noon on Friday . Friends say the resident of France was taking his first swim in the ocean off Area 20 of the park in Seaside Park
The Coast Guard suspended their search late Friday night after cover 17-square-miles over 6 hours with two boats from Atlantic City and a helicopter from Barnegat Station to help Seaside Park police and Island Beach lifeguard with the search.
"He was swimming with a group of friends. He got in some trouble; an individual came out to help him and he lost control of him and he went down," Coast Guard Station Barnegat Light Commanding Officer Kevin Speer told the Asbury Park Press.
Beachgoers were kept out of the water as the search got underway according to 7 ABC. A look at the Earthcam.com camera in Seaside Park shows rough surf on the main beach.
6 ABC reports four other swimmer were successfully rescued on Friday from the rough surf.

Ilya Hemlin contributed to this report.
MORE COVERAGE:
Source:
Body discovered in water near Island Beach State Park